Customer Referral Program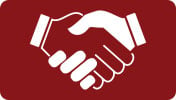 Our reputation is very important to us, and we work hard everyday to make sure we deliver the best solutions and services possible.
This program rewards our customers for sending business our way and improving our reputation. We are the only company in the industry with a program like this. I guess you would say we put our money where our mouth is.
How do you get Started?
---
It's simple: Complete the form on this page! We value the relationship you have with the referral. This is why we ask for an introduction when completing the online form. We want to work with you to provide a great experience to your referral, and it all starts with an introduction.
What's in it for You?
---
For every radio purchased at the time of your referral, you get $10! So, if you referral orders 25 radios, then we'll be sending $250 your way. If they order 200 radios, then we pay you $2,000 just for an introduction!

Receiving Your Reward
---
If your referral makes a purchase, we will calculate your reward based on the number of radios that were sold. That amount will be sent as an AMEX/VISA gift card along with a "Thank You" note to show our appreciation.